2016 / Aug / 16
Raw milk.
Bonjour,
Raw milk might be one of the most controversial topics when it comes to food and nutrition. Some believe raw milk has invaluable nutritional benefits, others will say it is extremely dangerous if not lethal.
While selling raw milk is illegal in Australia, it also looks like "new regulations in New Zealand will put farmers out of businesses and stop their thousands of customers from having the choice to drink it" (more info here). So what is the solution if you want, like me, enjoy real milk and avoid at all cost this highly processed supermarket product called milk but which has nothing to do with real milk, the milk that our grandparents used to drink?
Great news! A few weeks ago, the closest thing to raw milk hit the Australian shelves – legally! It's called Made by Cow (how clever!) and is distributed in NSW, VIC and ACT. It might be in New Zealand soon too…
Since I've tried it, I'm hooked! It's the perfect example of my motto: Real food + Pleasure = Health ©
So what is it? Is it raw or not? How does it taste? How much is it? Is it worth it? Well, let's see…
Raw milk or not?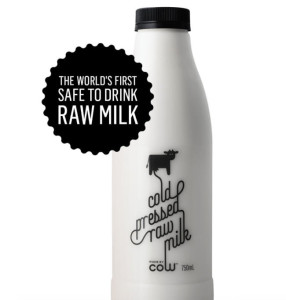 It is still raw but is actually cold pressed therefore safe, which makes all the difference.
This high quality Jersey milk from NSW is bottled straight from the cow within hours and put under intense water pressure, compressing both the bottle and milk inside for several minutes. This process (already used for fruit juices marketed as cold pressed juices) eliminates any remaining harmful bacteria and is extremely gentle on milk's natural nutrients (such as vitamins and potassium), unlike regular supermarket pasteurised milk.
It's 100% safe, even for kids! 
It's milk, un-messed with.
It took a rigorous 2 year process for Made by Cow, start-up in NSW founded by Saxon Joye, to get this milk approved by the NSW Food Authority.
Unlike most supermarket milks, this milk is NOT pasteurised, homogenised, separated, blended, diluted… "The way nature intended, straight from the cow" as Joye likes to say in an interview for ABC.
So delicious, so good for you.
It's simply delicious. Creamy and full-bodied.
It's slightly yellow, tastes a little bit sweet and goes perfectly with tea or coffee. And in my Nespresso machine, it makes the best latte. It's also perfect to make cakes!
It's very satisfying, not watery and will keep you full longer. Please don't think this full cream milk is your waistline's worst enemy: it's naturally rich in omega-3, the fat that helps you lose fat!
So worth it!
$5 for 750ml. So, yes, it's a bit expensive.
However, its health benefits, its wonderful taste, its creamy texture are priceless. Its shelf-life is also about 4 to 5 weeks, which helps not waste any single drop of it.
If you can, try it! Now. This milk is truly addictive, for all the good reasons! More info and list of stockists here: www.madebycow.com.au
Enjoy and have a great end of the week.
Yves
PS. I'm not an affiliate or a business partner of Made by Cow. Therefore I don't receive any financial benefit from them. I'm simply happy to share with you such a great initiative, 100% aligned with my philosophy: Real food + Pleasure = Health ©
Important: Nothing in this article or in my practice is intended to diagnose or treat any disease. My nutrition coaching is not a substitute for any treatment that may have been prescribed by your doctor or qualified health professional. If you suspect that you have a medical problem and/or before taking any supplement, always seek professional medical help.