2016 / Mar / 16
Let's celebrate sustainable food!
Bonjour,
I know, I've been very quiet lately. Many of you wonder why they did not receive my newsletter for the last 4 weeks . Well, as you know, alongside my busy nutrition practice (face to face and Skype sessions with my private clients,my activities as an official Jamie Oliver Food Revolution Ambassador, keynote speaker at conferences, guest blogger for many other sites…), I have a demanding job in one of the largest Australian health NGOs… Well, I used to.
Since last month I took on a fantastic role at the World Wide Fund For Nature (WWF). The first few weeks have been pretty intense. But don't worry, I won't leave you. I'm back and so happy to talk to you again!
Amongst many exciting projects at WWF I have the honour and the privilege to work with the brilliant team of Earth Hour. Earth Hour is the great Aussie idea gone global: everyone is invited to switch off the lights for an hour. What a genius idea to raise awareness about global warming. Founded by WWF in 2006, it is now celebrated in more than 160 countries. If you really haven't heard of Earth Hour before – seriously, where have you been for the last 10 years?

– here's a beautiful must-watch video. 
This year we will all switch off our lights on March 19, at 8.30pm.  Will you?
Earth Hour is also about food.
Earth Hour had the excellent idea to make a cookbook… Not the average cookbook. THE cookbook that everyone who believes in my approach Real Food + Pleasure = Health © should have.
Planet to Plate: The Earth Hour Cookbook is a collection of 52 amazing recipes from Australia's biggest culinary names. Matt Preston, Neil Perry, Luke Mangan, Kylie Kwong, Guy Grossi, Darren Robertson, Colin Fassnidge, James Viles, Jill Dupleix, Miguel Maestre, Margaret Fulton, Dan Hong and Sarah Wilson are just some of the Aussie chefs and food personalities who have contributed to the cookbook, providing a selection of recipes using seasonally fresh produce for mouth-watering appetisers, main dishes and desserts. So many good and delicious ideas!
You can get a copy of Planet to Plate for yourself or as a gift HERE. I'm sure you'll love it as much as I did! And in case you're wondering, all proceeds go to supporting Earth Hour's work with schools, small business and community groups.
What Earth Hour has to do with sustainable food?
Planet to Earth is about celebrating Australian food and farming and reminding us of the need to tackle global warming for the sake of our rural communities and the supply of fresh, healthy and homegrown food to our door.
Burning fossil fuels such as coal and gas makes global warming worse, contributing to more extreme weather and droughts that threaten farming communities and Australia's supply of fresh food.
As well as being a collection of the very best recipes from the country's top chefs, Planet to Plate is full of information on how global warming is already affecting produce we enjoy in our everyday lives including fresh vegetables, cereals, bread and fruit.
For example did you know that the super food avocados are highly impacted by temperatures higher than normal: reduced flowering, sunburn damage, smaller fruit, reduced pollination…
Leafy greens (we ALL need leafy greens) are also victims of global warming. Increased temperatures and changes in rainfall are the greatest challenges for our farmers: water is scarce and new pests and diseases appear because the heat attracts them.
Why sustainable food is the key.
"We all should have access to healthy, affordable, fresh, local food year-round. If we don't tackle climate change, our food security will certainly be disrupted. There's no doubt about that." says John Said, one of the largest producers of lettuce, broccoli and cauliflower in Australia. "The solutions are there" adds Lynne Strong, a sixth-geneartion farmer from Jamberoo, also featured in Planet to Plate.
Ready to switch off and eat well?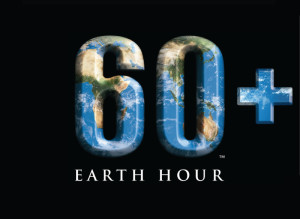 No one can do everything to help our planet but everyone can do something. It's as simple as switching off your lights this Saturday at 8.30pm and buying this delicious cookbook HERE now: it's $40 only (+ postage).
Doing good has never been so delicious!
Have a beautiful Earth Hour weekend.
Yves
PS: yes, it's official. I missed you and I'm so happy to be back!