2016 / Nov / 02
Ile de Ré
Bonjour,
I've been back for a month now from my 2016 annual own Tour de France… I keep having flashbacks of one place in particular: the Ile de Ré. I've been going to this tiny Atlantic island since I'm a kid… There are a lot of articles in French magazines which compare Ile de Ré and St Tropez as they both attract a lot of tourists and celebrities. They, however, could not be more different: bling-bling, vulgarity, show off and international jet-set on one side vs. chic, elegance, charm and locals for the Ile de Re (or simply 'Ré', as the connoisseurs say).
Ré is a long, tiny and flat island off the Atlantic coast, near La Rochelle, made of 12 villages, gorgeous little white houses and cobbled streets, beautiful vineyards, potatoes and asparagus fields, cycle tracks, stunning beaches and salt marshes.
The court of Henri IV loved staying in the Ile de Ré and the authentic and simple charm is now carefully cultivated by local councils thanks to very restrictive construction rules: no overhead cables, no new building higher than 2 storeys. All shutters have to be painted in one of 16 shades of blue and green only…
The 'je-ne-sais-quoi' of the Ile de Ré is highly addictive. As I said, I have spent all my summers on this discreet island since I was 10. I have not missed one single summer ever since, even now that I live in Australia.
So today I'm very happy to take you to 'my' island… It's not the usual blog on nutrition but it's a little bit about me – and the French lifestyle!
Choose your crowd or better, be a chameleon.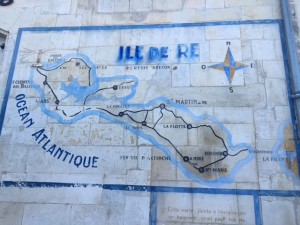 The further on the island you go the wealthier it becomes… Actors and authors prefer to stay at the very end of the island in a tiny village called Les Portes; intellectuals and politicians (including one former Prime Minister) can be seen in Ars, while people who bring their caravans and tents usually stop in the first part of the island.
However, the island is much more than its tribes. Be a chameleon, be everyone in one day! There's nothing better than having an early morning coffee at Saint-Martin before a visit to the market at La Flotte, enjoying a long lazy lunch in Ars, cycling all afternoon in the salt marshes between Ars and Saint-Clement, swimming at sunset at La Conche des Baleines and ending the day with an apéro and dinner in Les Portes.
Ice cream or waffles with crème Chantilly? Both!
La Martiniere in Saint-Martin is the equivalent of Berthillon in Paris. If you love ice cream, you have to try ice creams made by La Martiniere, a true institution on the Ile de Re. Very touristy and busy but so worth it.
My tip – not very typical coming from a nutrition coach but you have to try this: once you're done with ice-creams, try the waffles with home-made crème Chantilly and salted caramel sauce (made with the Ile de Re sea salt) or one of their desserts. The crème Chantilly is even better than my mother's recipe –shush don't tell her!
Meet Les Frères de la Cote.
With plastic chairs and tables, this is definitely not what you would call a fancy restaurant. Les 3 Frères de la Cote is however one of the best-kept secrets of the island.
What a place! Right on the ocean, overlooking the beach and facing west, locals and tourists in the know book days in advance to enjoy Les 3 Frères' signature dish: moules/frites! Arrive at 7pm for the apéro (have a pineau, the local wine) at sunset. Spectacular! Local, friendly, laid-back atmosphere guaranteed.
Back to the XIVth century.
While all the tourists tend to go to the big farmers' markets in Ars, le Bois or St-Martin, my 2 favourite markets are in La Noue and La Flotte. In La Noue, the market is very small and beautiful, with a lot of locals. After 2 days, the farmers will know your name and will be happy to show you how to choose the best watermelon or the best potatoes of the island. Much cheaper than anywhere too.
La Flotte's market has not changed since the XIVth century. It's quite an experience to think that 600 years ago, people were right there doing the same thing as you: enjoying all the local produce the Ile de Ré has to offer.
Eat fresh and local real food.
Asparagus, wine, seafood (in particular the Langoustines), cheese are some of the local products that will make your stay so special.
In June you'll be able to enjoy the best strawberries on earth called Marais des Bois.
Once you've tried les Marais des Bois, you'll never go back! My favourite producer is on the main road between the villages Le Bois and the village La Couarde. You can't miss it. Organic and grown with love.
Skinny dip anyone?
While there are many spots to watch the sunset from, my favourite is on the beach called La Conche des Baleines at the very end of the island. It is quiet, even in summer, as soon as families have left the beach for dinner.
It's often quite warm until late. If you are tempted, this is the place for a skinny dip.
There is also a huge wild fig tree on the sand dune, loaded with delicious figs in September. But don't tell anyone, it's mine!
A room (or a coffee) with a view at Les Colonnes.
Les Colonnes is my favourite terrasse to enjoy Saint-Martin, UNESCO World Heritage site (you can admire one of the best examples of the fortifications built by Vauban in the XVIIth century). Les Colonnes is a local institution and surprisingly don't attract as many tourists as many other cafes here.
Order an espresso, buy the local paper (called Le Phare de Ré) and the local brioche torsadée (with a little bit of butter salted with the Ile de Re sea salt) and simply enjoy one of the national French favourite hobbies: watching the passers-by. Les Colonnes is also a hotel. Prefer the rooms with balcony facing the harbour: opening the blue shutters and watching the harbour slowly waking up is simply beautiful.
Get to the soul of it.
Fish locks are an inherent part of the cultural heritage of the island and have shaped its life and economy since the Middle Age. I highly recommend the guided visits organised by the local councils in La Noue or Loix. Sounds touristy and boring? It's the best way to understand what this island and its people are made of. You won't regret it.
Listen to Charles and fall in love.
Charles Aznavour, one of the icons of la chanson francaise, wrote a wonderful song: Trousse-Chemise. Go to the little wood of Trousse-Chemise. It is so peaceful, so romantic. And who knows? You could fall in love, just like Charles:
"Dans le petit bois de Trousse Chemise
Quand la mer est grise et qu'on l'est un peu
Dans le petit bois de Trousse Chemise
On fait des bêtises souviens-toi nous deux
On était partis pour Trousse Chemise
Guettés par les vieilles derrière leurs volets
On était partis la fleur à l'oreille Avec deux bouteilles de vrai muscadets…"
I hope you liked this very short escape on 'my' island, the Ile de Re…
Have a beautiful end of the week.
Yves