2016 / Jul / 19
Healthy Soups.
Bonjour,
Welcome back to my Delicious Sexy Soups Series, part 2! Last time, we talked about bone broth, key ingredient to make healthy soups. Today, let's explore 5 reasons why soups are one of the healthiest meals, while being delicious, economical, easy and versatile – and your waistline's best friend. Sounds sexy, isn't it?
As a proud Jamie Oliver's Food Revolution Ambassador, I highly recommend Jamie's wonderful soups recipes. At the end of this article, I'll also give you one of my Great Grandmother's recipes: very comforting, nourishing and delicious. So good on a cold day.
#1 Healthy soups: they are nutrient-dense.
Loaded with minerals (selenium, potassium…), vitamins (B, C and K) and fibre – in addition to all the nutrients offered by the bone broth – soups can easily provide you with the nutrients you need for the day, in particular if you add some proteins – whether they are animal-based such as ham or eggs or plant-based such as lentils or beans.
#2 Healthy soups: they are low in energy density.
Compared to many other foods, soups are very low in calories per gram, while being very high in nutrients. You end up eating way less without feeling deprived.
Nutrition at its best, totally aligned with my motto: Real Food + Pleasure = Health ©.
Simply check my delicious family recipe at the end of this article!
#3 Healthy soups: they fill you up.
Soups aren't simply water. They will nourish you in the most efficient way. As they are one of the most nutrient-dense foods, they can be as filling as solid meals, as documented by many studies.Once again, by simply adding some proteins, you'll be satisfied for a few hours.
Some of my clients are very skeptic at first but when they shift their mindset by following my popular Delicious Sexy Soups Challenge, they quickly find themselves loving their soups! They feel great, totally satisfied, lighter and lose weight.
#4 Healthy soups: they alkalise your body.
Soups are the best trick to help you, your kids and all your loved ones, eat a lot of vegetables – in particular leaks, onions, mushrooms, cabbage and even leafy greens: a very good thing in particular in winter, when it is quite challenging to eat as many vegetables as we should.
A diet rich in vegetables is exactly what you need to alkalise your body, one of the conditions for optimal health and a major focus of my approach with my clients.
Most biochemists and medical physiologists have recognised alkaline pH as the first major line of defence for optimal health, vitality and sustained healthy weight (we are not talking here about acidic taste here but what makes the pH of your body acidic or alkaline). Some even say that "no disease including cancer can survive in an alkaline environment".
#5 Healthy soups: they promote weight-loss.
Well… This will be for next time, part 3 of my DeliciousSexy Soups Series!
In the meantime, here's my Great Grandmother's recipe: Lentil, Onion, Mushroom and Barley Traditional Soup… D.e.l.ic.io.u.s!
Ingredients for 6 persons
8 cups of bone broth (see recipe here) or vegetable broth
2/3 cup filtered water
600g onions (sliced)
2/3 cup lentils (my favourite are French: Puy Lentils – they are grown 80km from where I come from, where my Great Grandmother Marguerite used to live, cook and heal her patients) – you also can choose red lentils: it will add a beautiful orange colour to your soup.
1/2 cup barley (rinced)
3 cups sliced mushrooms (choose you favourite ones!)
1/2 cup lemon juice
1 tsp cumin (ground)
3 garlic cloves (chopped)
5 tbsp extra virgin olive oil
natural sea salt and pepper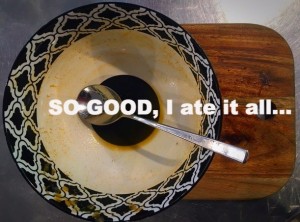 Directions
Heat the oil in a pan and add the onions over low heat. Stir for 15 to 20 minutes until the onions get brown/caramelised.  Add the garlic and the mushrooms and cook while stirring for another 5 minutes to 10 minutes. Put aside.
Put the water into a pan and add the barley. When boiling, reduce the heat, simmer gently and stir for 25 to 35 minutes.
Once the water has been absorbed, pour the broth, lentils, cumin, caramelised onions, garlic and mushrooms (keep 2 tbsp aside), cook until boiling.
Reduce the heat (to low heat), simmer, stir when needed, for 1 hour.
Add the lemon juice, season to taste with sea salt and pepper, simmer for 5 minutes. Garnish with the remaining caramelised onions, mushrooms and garlic.
Serve with a piece of wholemeal bread.
Bon appétit!
Have a delicious end of the week.
Yves