2013 / May / 14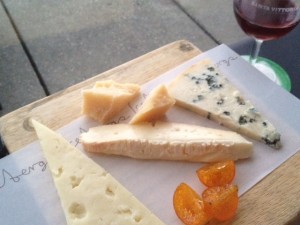 Myth
Cheese is high in saturated fat and therefore has been associated to high cholesterol and heart diseases.
Why cheese is good for you
The French eat most of their naturally fermented cheeses from raw unpasteurised milk. This milk come from properly raised grass-fed animals (goats or cows) and contains protective CLA and good fats (just like grass-fed butter or creme fraiche).
In particular curd cheese is packed with calcium, protein, rich in healing fats and, very important, is an excellent digestive aid. Fresh, unripen cheese made from cultured dairy products is bursting with probiotic (pro-life) activity, keeping pathogens at bay, guarding against infectious illness, and aiding in the fullest possible digestion of all food we consume.
"Perhaps this is why so many traditional societies value fermented milk products for their health promoting properties and insist on giving them to the sick, the aged and nursing mothers", as nutrition researcher and Weston A. Price Foundation co-founder Sally Fallon explains.
How to get cheese
Rule 1: In Australia cheese has to be made by law with pasteurised milk. Best choice: organic pasteurised cheese. If you're lucky enough to travel in France, Spain, Italy or Greece, go for unpasteurised.
Rule 2: Please stay away from so-called low-cholesterol cheese made with vegetable oils and likely to contain trans fats. Processed cheese also should be avoided at all costs for the same reasons.They are highly processed and are everything –bad- but cheese.
Rule 3: Look at the labels: if there are any other ingredients than milk, culture, rennin and salt, don't buy it! Enjoy in moderation.