2014 / Jul / 31
Bonjour,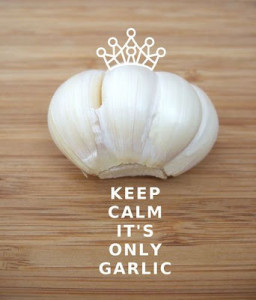 'To be strong and kill all the bad bugs in your gut, eat garlic every day!' used to say Marguerite, my great grandmother, popular healer and cook in the South West of France in the 1920s.
Worshipped by most of ancient cultures around the world, many modern studies have since demonstrated the health benefits of garlic. I'm sure you know it already but before we move to why we should love the humble garlic even more, let's remember first why we love it in the first place.
This true super food and antioxidant powerhouse boots immunity by:
– alkalizing your diet for better energy,
– helping prevent colds,
– helping lower blood pressure,
– fighting growth of stomach and colon cancer cells
– killing bad bacteria,
– helping probiotics (good bacteria) to flourish, fastening your metabolism and promoting weight loss (more on probiotics and prebiotics in my blog here),
– fighting aging.
Impressive, isn't it? No wonder garlic is one of the key components of the Mediterranean and the traditional French diets linked to better health, lower cardiovascular diseases rates and lower obesity rates (35% of the French are obese or overweight compared to 65% of Australians). The French –in particular in the South of France- adoooore garlic. The pink garlic which appeared in the Middle Ages in Lautrec (not far from where I come close to Toulouse) even obtained a Protected Geographical Indication and the 'Label Rouge', one of the French highest quality certifications. Garlic, among many other simple yet super foods is naturally central to the programs I design for my clients (for those who like garlic of course!).
But there is more. Here are 3 unexpected reasons to worship garlic you might not be aware of:
Yes you can eat sprouting garlic! Actually you should! The conventional recommendation from your mother, chefs and even my great grandmother was to simply toss it. Well, researchers very recently found that "garlic sprouted for five days demonstrates higher antioxidant activity than younger, fresher bulbs" as reported by the Australian Traditional Medicine Society. So if you have bulbs with the green sprouts emerging from the centre, please eat them. They are even more health-promoting than when they were pulled from the ground several months ago!

No, garlic doesn't give bad breath! Simply crunch a few coffee beans or chew some parsley or fresh mint. Or simply eat an apple… And you can kiss your lover again!
No, garlic doesn't give a bad smell to everything. To get rid of its smell:
On a knife: rinse it with cold water
On your cooking board: brush it with coarse salt
On your hands: rub them with fresh parsley
Yes the humble garlic is a true super food but you have to follow a few rules to make the most of it:
To get the maximum of its healing properties, have garlic raw or slightly cooked. Very important, crush, chop, mince or press it for antioxidants to produce an instant reaction to free radicals and to enjoy all its benefits. Pressing garlic or mincing it into a smooth paste will give you the strongest flavour and may also result in an increased amount of health benefits. So, the more pungent the smell, the better it probably is for your health.
–      Let garlic sit for 5 to 10 minutes after cutting and before eating or cooking to allow the health-promoting antioxidant alliicin to form. It won't happen otherwise.
–      Try and eat your garlic raw. However if you allow your garlic to sit, you can cook it and still keep some of its properties. If you cook it up to 15 minutes, you won't lose too many nutrients. If you cook it up to 30 minutes, there will be a moderate loss of nutrients. If you cook it for more than 45 minutes, you'll lose almost everything. Not good! So prefer it raw or cooked less than 15 minutes.
 Finally I could not end this post without mentioning how garlic beautifully transforms each of your dishes. Here are a few French cuisine tips. So easy, so yummy:
–      Poultry: stuff with a few pieces of wholemeal bread rubbed with garlic and a few small peeled cloves. Place a few large unpeeled cloves and a small cup of water in the dish and place in the oven.
–      Roasts: put some pieces of garlic on each side. Place a few large unpeeled cloves and a small cup of water in the dish while cooking.
–      Cold meat and charcuterie: enjoy with 'Confit Garlic'. Have some 'Confit Garlic' on your table and you will definitely impress your guests! However if you make some, make sure you are aware of safety food rules to reduce the possible risk of botulism!
So now, it's your turn. Tell me: why do you love garlic?
Have a fantastic week.
Bon appétit.
Yves